American track and field star Gwen Berry, who is heading to Tokyo to represent the United States of America in the hammer throw, was scrutinized by the media again after some internet sleuths dug up some disturbing tweets involving racist comments and joking about the sexual assault of women.
From her personal bio, she boasts that "she has become one of the most outspoken leaders in the sport fighting to bring awareness to issues of social injustice in the United States," and represents herself as a Black activist.
But several posts stood out on Berry's Twitter account that seemed to contradict the message she is trying to get across.  For example, her obvious hatred of white people is made loud and clear in some alarming Twitter posts.
WARNING! The following content may be disturbing to some readers.
In addition to anti-white posts, Berry has also made the same extremly racist references to Asian people and Mexicans.

Then there was the time Berry made some gross jokes about sexual assault.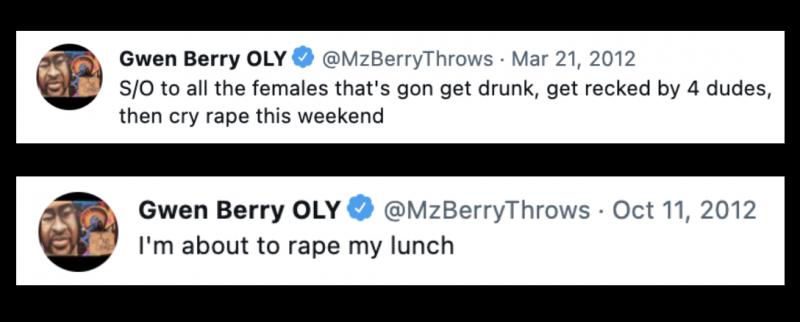 Berry made headlines last weekend after she protested during the playing of the national anthem in the U.S. Olympic track and field trials. Berry finished third in the hammer throwing competition and qualified for her second Olympic games.
"I feel like it was a setup, and they did it on purpose," Berry later said of the timing of the anthem. "I was pissed, to be honest."
"They said they were going to play it before we walked out, then they played it when we were out there," she added. "But I don't really want to talk about the anthem because that's not important. The anthem doesn't speak for me. It never has."
Berry reacted Saturday by brushing aside the newest criticism, and, for some reason, invoking Supreme Court Justice Brett Kavanaugh.
"Is that the best THEY could come up with? I'll just say I can relate to the Associate Justice of the Supreme Court of the USA Brett Kavanaugh and agree, there's a lot of s**t I don't do like I did when I was 18 or 20," she responded.